How to Make a WordPress Website in 2024 : the best Guide

Whether you're a blogger, business owner, or creative professional, a well-designed website can be your digital storefront. And when it comes to creating websites, WordPress continues to be the go-to platform for millions of users worldwide. In this comprehensive guide, we will walk you through the steps to make a WordPress website in 2024.
Table of Contents
Why Choose WordPress?
Before we delve into the step-by-step process, let's briefly discuss why WordPress remains the preferred choice for website creation:
User-Friendly: WordPress is renowned for its user-friendly interface, making it accessible for beginners and experts alike.
Customization: With thousands of themes and plugins available, you can create a website that suits your unique needs and style.
SEO-Friendly: WordPress is designed with SEO in mind, ensuring your website has a solid foundation for ranking on search engines like Google.
Now, let's get started on building your WordPress website in 2024.
Step 1: Domain and Hosting

Choosing a Domain Name
Your domain name is your website's address on the internet. It's essential to select a name that is relevant to your content or business. Keep it short, memorable, and easy to spell. Use tools like hostinger or GoDaddy to search for available domain names.
Selecting a Hosting Provider
A reliable hosting provider ensures your website is accessible 24/7. Popular options include hostinger, SiteGround, and HostGator. Choose a plan that suits your needs, considering factors like website traffic and storage requirements.
Step 2: WordPress Installation
One-Click Installation: Most hosting providers offer one-click WordPress installation. Log in to your hosting account, find the installer, and follow the prompts.
Manual Installation: If your hosting doesn't offer one-click installation, download WordPress from wordpress.org, upload it to your server, and follow the installation instructions.
Step 3: Choosing the Right Theme
Selecting a suitable theme is crucial for your website's appearance and functionality. Here's what to consider:
Responsiveness: Ensure the theme is mobile-friendly to cater to users on various devices.
Customization: Look for a theme with easy customization options to match your brand.
Speed: Opt for a lightweight theme to keep your website loading quickly.
Step 4: Essential Plugins
Plugins enhance the functionality of your WordPress website. Some must-have plugins include:
Yoast SEO: Helps optimize your content for search engines.
Elementor Easily create stunning web pages with a user-friendly drag-and-drop interface.
WooCommerce: If you plan to sell products online.
Akismet Anti-Spam: Protects your website from spam comments.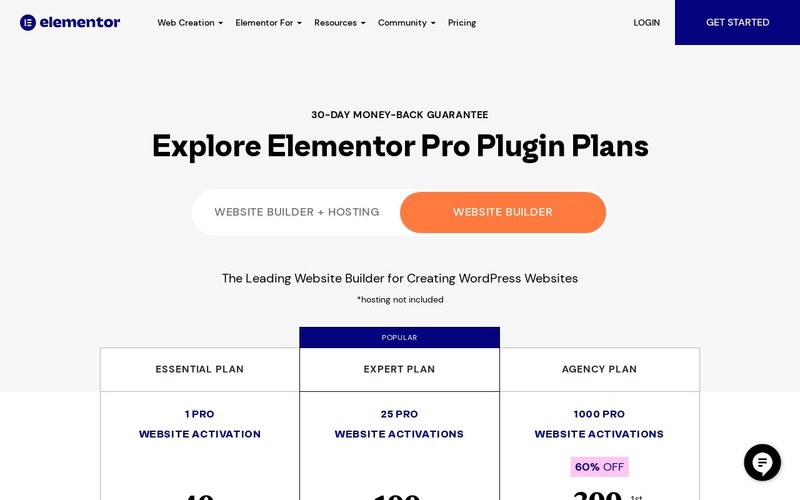 Step 5: Content Creation
Now that your website is set up, it's time to create valuable content. Follow these tips:
Keyword Research: Use tools like Google Keyword Planner to find relevant keywords for your niche.
Quality Content: Write informative, engaging, and error-free content.
Optimize Images: Compress and add alt tags to images for faster loading and improved SEO.
Step 6: On-Page SEO
Rank Math's best practices for on-page SEO come into play here:
Keyword Usage: Integrate your target keywords naturally within your content.
Meta Tags: Craft compelling meta titles and descriptions that encourage clicks.
Internal Linking: Link to other relevant pages on your website to improve user navigation.
Outbound Links: Include outbound links to authoritative sources, enhancing your content's credibility.
Step 7: Website Optimization
Ensure your website is optimized for speed and performance:
Caching: Use a caching plugin like W3 Total Cache to improve loading times.
Security: Install a security plugin like Wordfence to protect against threats.
Mobile Optimization: Test your website on mobile devices to guarantee a seamless user experience.
Step 8: Launch and Promotion
Congratulations! Your WordPress website is ready. Don't forget to promote it:
Social Media: Share your content on social platforms to drive traffic.
Email Marketing: Build an email list to connect with your audience.
Regular Updates: Keep your website fresh with new content and updates.
By following these steps and adhering to Rank Math's best practices for on-page SEO, you can create a WordPress website that not only looks great but also performs well on search engines, attracting more visitors and potential customers.
building a WordPress website in 2024 is an exciting journey that can lead to online success. Remember to stay updated with the latest trends and technologies to keep your website competitive in the ever-evolving digital landscape.